Q&A with Jenna Brocious: The Inspiring Story Behind Positive Intention Prayer Cards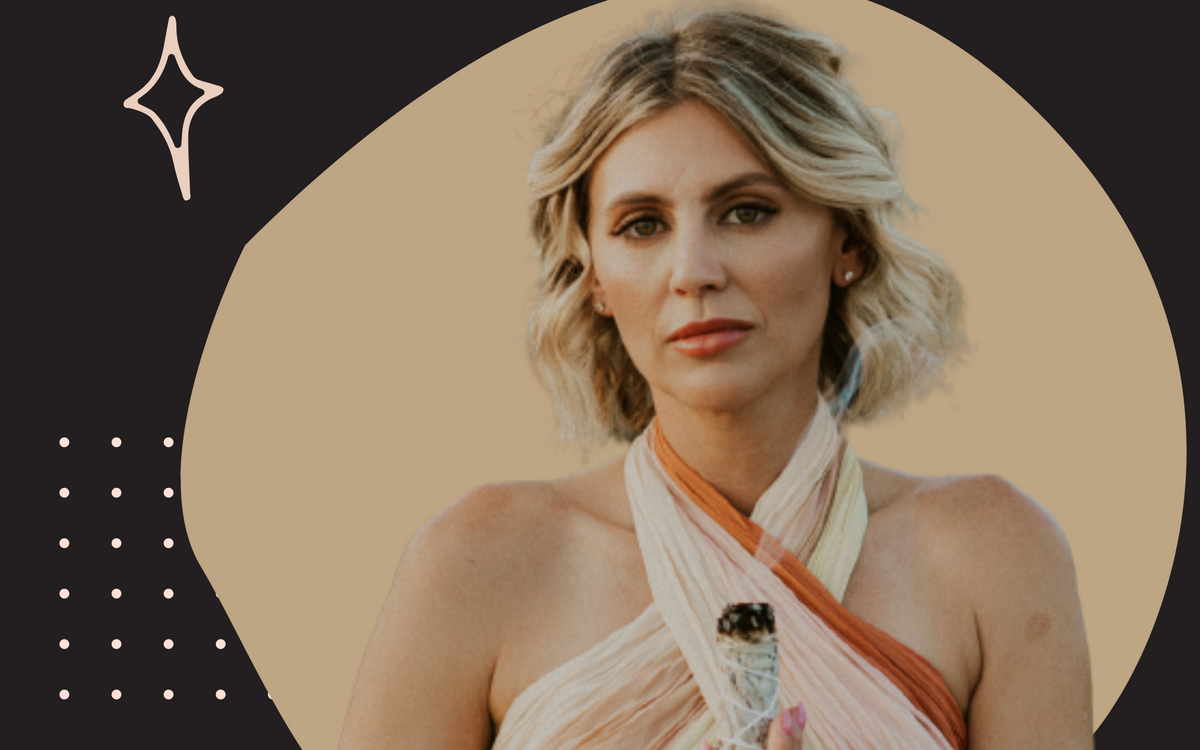 Meet Jenna Brocious, a woman on a mission to spread love and healing to others. Through her positive intention prayer cards, Jenna aims to provide a daily reminder that you are not alone and to have faith in better days ahead.
Drawing on the wisdom and lessons she has learned from her own experiences, Jenna encourages a mindset of positivity and trust in the goodness of God. In this interview, Jenna shares her inspiring story and the driving force behind her work.
Q: What inspired you to create the  positive intention prayer cards?
In 2019, I sat in prayer and meditation every day asking for my life's purpose. At some point, the idea of prayer cards came to me. I didn't act on the idea until Covid hit and I was at home struggling mentally with all that was going on in the world. I am a major extrovert that enjoys being around people. Also, having a four-year-old at home and trying to keep him busy was a bit overwhelming at times. My husband was deciding what to do with his company and what their next move. I know it was a stressful time for everyone.
I started looking for a positive outlet to help keep my mindset in a good, loving, positive place. I googled positive prayer cards, and nothing answered what I was looking for. So once my son was back in school, I sat every day at my kitchen table and started writing out these prayers. I had my bible on the table, asking for the words.
I feel like most prayers have a negative connotation. I wanted to change that. I like to pray with positivity.  I think it is important to pray with positive intentions. Why only pray when things are not good? Being grateful is such a beautiful feeling to hold during prayer.
I sell my prayer cards on Etsy. People have resonated with them. I have shipped them around the world. It has been such a dream come true.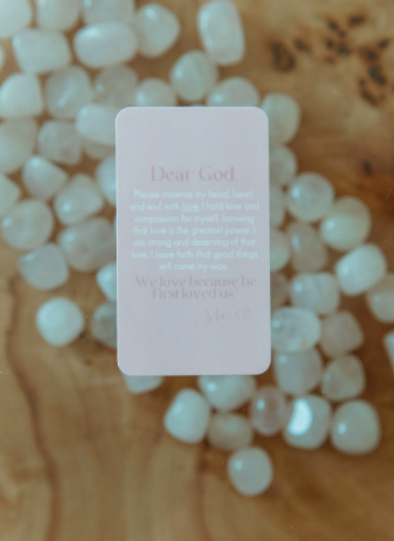 Q: When did you start to realize that you had an intuitive gift and wanted to be a spiritual intuitive guide?
When I met my husband in 2012 things started to shift for me. I was having dreams that were different and woke up one night to a loving purple light at the end of my husband's side of the bed. Strange stuff like that. I had many things like that happen. I had no idea what was going on or how to handle it. Not until 2019 when sitting with my life purpose my husband said "maybe you should explore this part of you that is not going away." In 2020 I met a group of spiritual guides and learned a lot about myself and my gift.
Currently, I don't see clients. This work is fantastic but can be overwhelming and a tremendous responsibility. I do my daily work to stay connected and share with people when it feels right. Not everyone is open and understanding. I choose to protect myself a bit.
I feel blessed to be able to see the world with different eyes. We are all so connected. The best example is we are each a leaf on a tree of mother earth. Being loving and kind to each other is so important.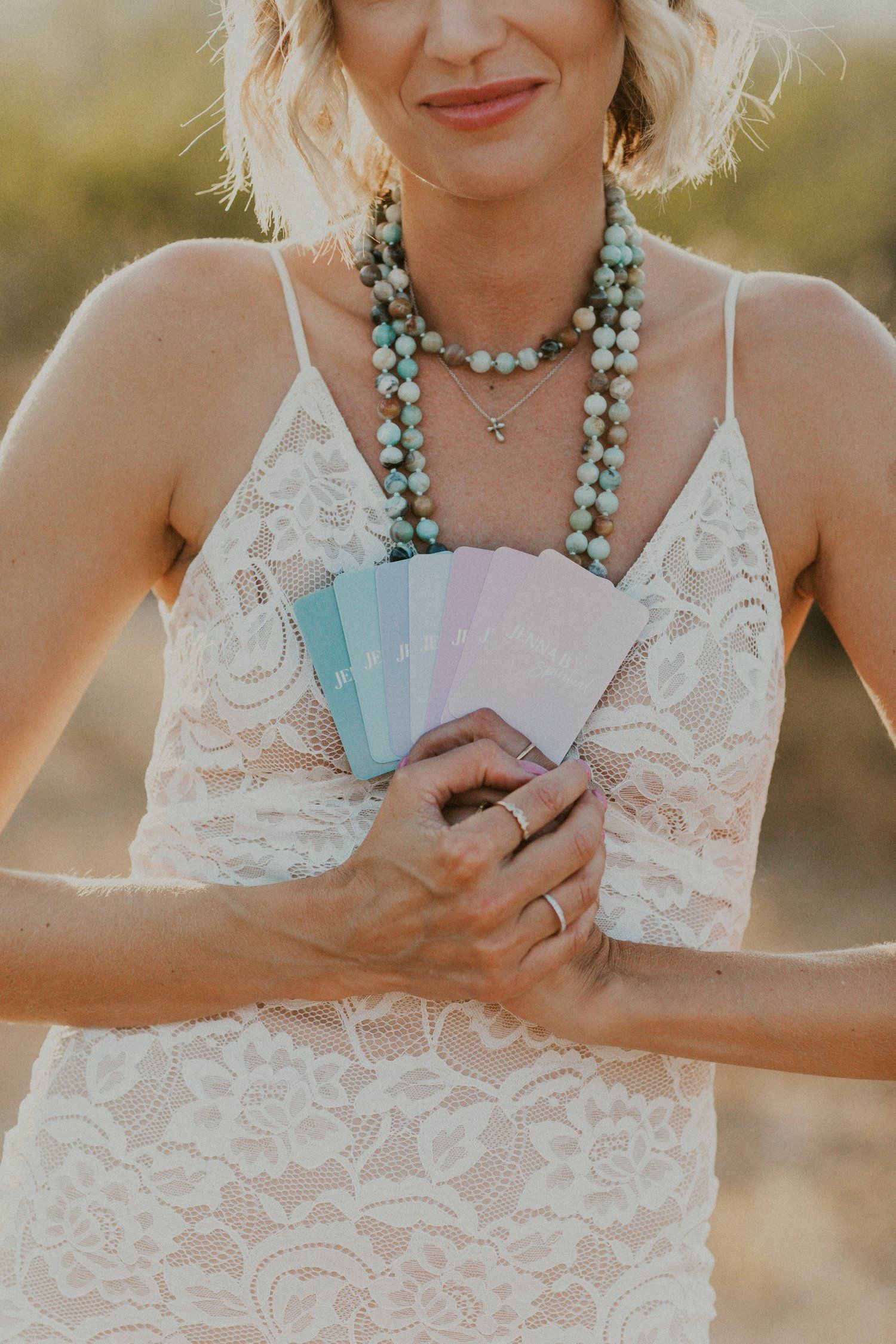 Q: How do you balance being a mom and entrepreneur?
This is a hard one for me personally. I have not found the balance. I will always put my family first. That being said, though, I have big dreams and want to impact this world in a big way. I know that one day, family time will look different. I am trying to be as present as possible and soak it all in.  The older my son gets, the easier it has gotten because he understands and also loves to help put the prayer cards together. Which is so cute. He always loves to give them out. I love his heart.
Q: How do you believe your adverse childhood has helped shape you as an entrepreneur?
I was raised by a single mom, and money was always tight. That being said, I have a lot of drive to give my family more. I have learned that being my own boss is extremely important to me. I like being in control of my destiny. I now have the opportunity to give my family new and different experiences.  That is a big blessing for me.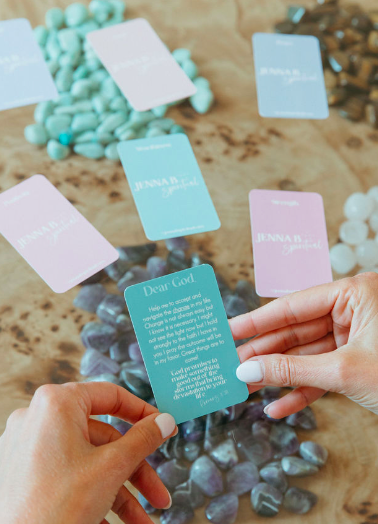 Q: What are some of your future goals for the positive intention prayer cards?
My big dream is to be a national speaker and book author. The prayer cards are just another extension of my brand. My goal is that my prayer cards get into the hands of every person that desires more positivity and love in their life.
Published on January 7th, 2023
💡
Are you a female founder with a powerful story to share?
Founded by Women
is dedicated to elevating and amplifying the voices of women making an impact. If you want to share your story, don't hesitate to
contact us
.